How to Create a Social Media Content Calendar Template?
Keeping many work streams of social media accounts active with fresh posts & audience engagement is not easy without social media content calendar template.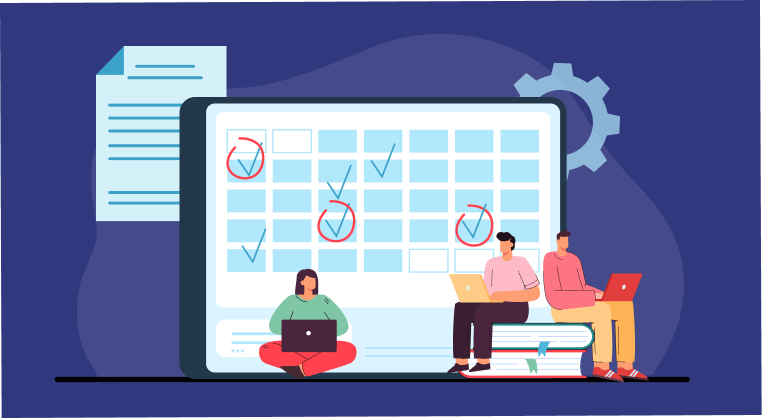 It takes a lot of work to run a social media account or several accounts. A social media content calendar template comes in handy for time-constrained social marketers. You are more likely to make typos, tone issues, and other errors when you write and publish content on the fly. Setting up a particular period of time during your working day to draught, edit, proofread, and schedule posts is considerably safer and more effective.
A successful content mix can be planned with the aid of a social media content calendar template, which will also make your workday less hectic. You might hunt for chances to spread social messaging reinforcement across several channels. Additionally, you'll have the ability to time your posts to reach a wide range of audiences. In addition to having a central source where you can plan future posts, with a social media content calendar template you can keep track of what has already been shared, and coordinate your efforts with a cross-functional team. Developing a social media content calendar also allows you to track what has already been posted.
If you manage numerous social media accounts across Instagram, Facebook, LinkedIn, Twitter, and other platforms, a calendar of this kind can be very useful. A social media content calendar template can assist you in choosing what to post on each account, managing various copies of each item, and posting in your own distinctive style.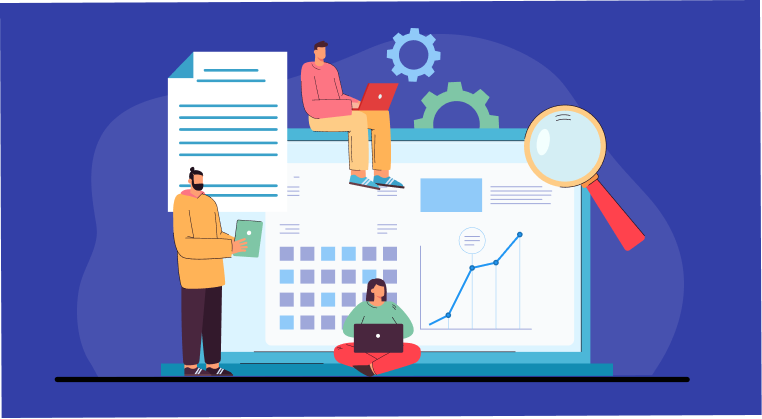 Importance of a Social Media Content Calendar Template
You may unlock fresh possibilities for your social media team by developing and maintaining a social media content calendar template. By using a schedule, you can include strategy and metrics into your social media planning and revitalize your accounts. A social media content calendar template can also assist you with the following:
Time Every Post
Each social media post involves considerable effort and thought. But without the appropriate strategy in place to promote and amplify those pieces, they can quickly disappear in the newsfeed, preventing your audience from seeing the incredible material you've made just for them. You may arrange when to submit each of your posts on social media using a social media content planner, which allows you to organize all of your posts in advance.
Ensure Consistency
It can be challenging to correctly envision when you post on each of your social accounts without a central social media content calendar template. You need a calendar of every forthcoming and previous post if you want to effortlessly ensure that each account is receiving the proper amount of love and care. Additionally, by picturing your posts beforehand, you can make sure there won't be any forthcoming coverage gaps or, if necessary, arrange for additional posts in those windows.
Prevent Errors
Ensures that everything you upload is flawless and copyedited with the social media content planner tool. To avoid spelling errors, make sure you're constantly using the appropriate links and images, and stop major errors in their tracks, view all upcoming posts.
Create Effective Content Plan
You might want to include a customer quote, a link to a blog post, an image, or a new video depending on where and what you're posting. With the aid of a social media content calendar template, you can identify what you need and gather the necessary resources from your marketing team, as well as ensure that they are correctly arranged and linked to the appropriate posts.
Provide Analytics
You need to be able to reflect on your past actions in order to improve your social media approach. However, searching through individual LinkedIn or Instagram posts is not the best approach to accomplish that. Instead, look for a social media content calendar template that makes it simple to access older posts.
Give Cross-Functional Visibility
Cross-functional team members don't always have access to the social media planning and posting tool, so they lack a solid understanding of what you're posting and when. You can make it simple for your team members to share, like, and amplify your posts by keeping a social media content calendar template that everyone can use. By doing so, you not only keep track of your social media posts for your own benefit but also make the truth readily available to any team members who might be curious.
Creating Your Own Social Media Content Calendar Template
To establish a successful social media content calendar template, adhere to the stages listed below.
Identify Social Channels
Although this may seem like an apparent initial step in creating a social media content calendar template, it's actually one of the most crucial ones you can take—and it frequently goes unnoticed. Take a step back with your social media team to find the answer to the following query before you begin focusing on specific social postings and channel-specific strategies.
Is there a platform where you fail to reach your target audience better? Is there a platform that is well-liked by your target audience that you haven't yet begun to build out? Are there unused social media accounts for your business that are laying in the dust?
The first step to developing platform-specific content strategies—and genuinely producing material that shines for your audience—is narrowing down your platforms with knowledge of where your audience resides, then you can work your way around the content calendar template.
Perform Social Media Audit
It's beneficial to have a starting point in mind when building a social media content calendar template because one benefit of it is reporting on progress. Note the following as you audit:
Fake profiles, and outdated accounts
Passwords and account security
KPIs and objectives for each branded account
Your target audience personas and demographics
Who in your team is accountable for what tasks?
Your most effective campaigns, postings, and strategies
Gaps, disappointing outcomes, and areas for improvement
Determine the most important parameters for evaluating future success on each platform
If you perform a social media audit and discover that you are unsure of what is effective, that is okay! You'll be able to track data in your calendar and report on it as well, which will help you move forward with ongoing process improvement.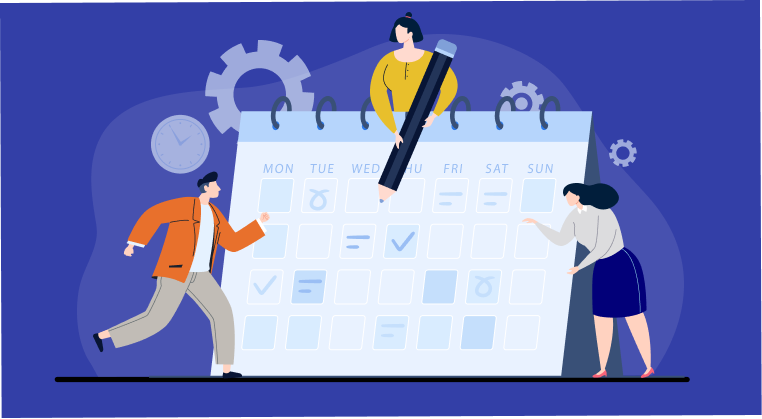 Determine What to Track
You can create your social media content calendar template now that you know which channels to prioritize and how well your posts are performing right now. If you use the NinjaContent content marketing calendar template as a starting point, you probably already have a solid foundation for keeping track of the necessities. Use the metadata in your social media content calendar template to keep track of extra information, such as the hashtags you're using, the channels you're posting on, the precise time the posts will go live, the audience you're aiming for, pertinent @mentions, and more.
Plan Your Posts
Decide how often you'll post and how far in advance you want to compose your posts. Your capacity can be determined and your content development process will be optimized if you are aware of your cadence.
Do you routinely publish pictures and videos? If yes, where do you get your inspiration from? If you work with a design team, setting up your posting cadence can assist you to make requests in advance rather than bombarding them with work. As an alternative, building an asset library with a social media content calendar template can make it simpler to find images and videos if you use stock footage.
Track Published Content and Reports
You already have a single central source for all previous entries if you use a social media content calendar template to keep track of your postings. Take advantage of the opportunity to review historical patterns and supplement older postings with social media analytics information, such as the number of likes and impressions the post received in the first hour. Were there any noticeable measures for audience engagement? Take advantage of this chance to monitor what is effective and continue to sharpen and improve your social media advertising.
Review Schedule
Spend some time now with your social team brainstorming and agreeing on a review cadence. When and who should review posts? Do the brand or legal teams need to approve any of your posts? Your social schedule is there to aid in the development of your procedures. Additionally, it's a terrific method to manage all of your content reviews in one location, that is social media content calendar template.
Wrapping It Up
After creating your social media content calendar template, schedule each of your social media posts, interact with your followers and gauge the effectiveness of your campaigns. Check out the online social media calendar NinjaContent by 500apps to streamline your social media content management with advanced features and tools. Moreover, utilize the 50+ applications of its parent suite, to meet your end-to-end requirements.
What Makes the Best Content Tool?
#1
Plan, write and distribute high-quality content
#2
Get keyword recommendations along with LSI keywords to produce high-ranking content
#3
Generate optimized titles for your blogs based on currently ranking ones
#4
Assign to writers, collaborate on abstracts and manage content calendar
#5
Automate content distribution to over 25 different channels and social networks
#6
Generate keyword graphs to identify relationship between keywords and other related terms
#7
Integrate with your Google Analytics account and analyze your web pages
#8
Add citations, royalty-free images, and twitter embeds to your content
#9
Unbelievable pricing - the lowest you will ever find
#10
Everything your business needs - 50 apps, 24/5 support and 99.95% uptime
Join the SaaS Revolution
All-in-One Suite of 50 apps

Unbelievable pricing - ₹999/user

24/5 Chat, Phone and Email Support